YES Parent Essential Oils Review
YES (Your Essential Supplements) recently released a lineup of essential oil supplements that promise to contain all of your required "parent" omega-3 and omega-6 fatty acids. Here's what you need to know about those parent essential oils.
What Are Parent Essential Oils?
YES Parent Essential Oils are important compounds your body cannot produce on its own. You need to get these essential oils from the foods you eat.
Unfortunately, modern food processing turns parent essential oils into derivatives, and these derivatives aren't nearly as effective at delivering health benefits into our bodies.
YES created a supplement that has your sufficient daily value of parent omega-6 and parent omega-3 essential oils. These are also known as parent essential oils, or PEOs.
That supplement is called YES Ultimate EFAs and it promises to be the world's best source of essential fatty acids.
One of the key differences between YES Ultimate EFAs and other essential oil supplements is that YES's supplement is made from organic seed oil instead of fish oil. This purportedly makes the essential fatty acids far more effective and bioavailable.
Today, some people are turning away from fish oil supplements because of the perceived risks: fish oil contains high levels of mercury and other toxic compounds. By switching to an organic plant-based source, you may be able to enjoy better health benefits.
It's also vegetarian/vegan-friendly.
Benefits of Parent Essential Oils
As mentioned above, parent essential oils are essential compounds that can't be created by the body. As the product page for YES Ultimate EFAs explains,
"Many of us are overdosing on harmful trans-fats and not getting enough of the unprocessed Parent Essential Oils. Food processing presents a nearly insurmountable problem, though it can be minimized by supplementation."
Today, most essential fatty acid supplements contain the derivative form of omega 3 and omega 6. By delivering the parent form of the compound into your body, you can enjoy some powerful health benefits, including:
— Reduce Your Risk Of Cardiovascular Disease By Lowering Your Cholesterol
— Boost Brain Power And Memory
— Preserve Lean Muscle
— Improve Bone Health
— Boost Fat Burning
— Reduce The Signs Of Aging
— Reduce Symptoms Of Osteoarthritis
— Protect Yourself From Air Pollution: (this 2013 study showed that fish oil protects your heart from air pollution)
YES Parent Essential Oils Ingredients
Here's what the ingredients chart looks like for the liquid version of the supplement And for the capsule version: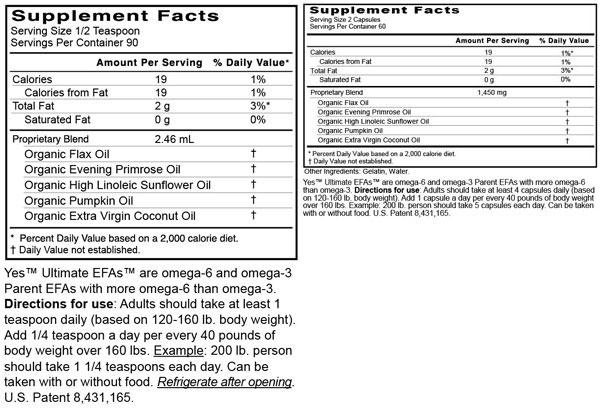 How to Buy YES Parent Essential Oils
You can buy YES supplements from YES-Supplements.com or from Amazon.com.
At Amazon, you can buy a package containing 120 capsules for $33.
The official website has the same supplement priced at $49.95, so buying from Amazon appears to be your best option.
If you'd rather take the supplement in liquid form, then you can buy the Ultimate EFA Liquid in 8 ounce containers. That container is priced at $38.50 on Amazon and at $52.95 on the official YES supplements website.
One advantage of ordering from the YES website is that you can choose a subscription option where you receive repeat orders of the supplement every 30, 45, 60, 90, or 120 days.
About YES
YES stands for Your Essential Supplements, Inc. The company's slogan is "scientifically-advanced nutritional supplements". You can find YES at the following address in Houston, Texas:
Your Essential Supplements, Inc.
2825 Wilcrest Dr., Suite 408
Houston, TX 77042
In addition to the essential oil supplements mentioned above, the company sells a wide range of other nutritional supplements, including multivitamins, herbal supplements, and even a lineup of pet care products.