Biking in urban areas can be full of distraction and danger. Trying to figure out where you need to go can be challenging if you have only a phone GPS, because there is so much going on around you. It can be hard to stay safe if you have to check your phone every 5 minutes for turn by turn directions.
Now there is a product for bikers, that goes on the handlebars to assist with GPS and many other things. It can help keep you safe and on track while in any area, and is a great way to make your ride easier and safer.
Today we will be discussing a product for cyclists called the SmartHalo. We will be reviewing this product and helping you determine if it is the right product for you to try.
What is the SmartHalo?
The Smart Halo is a device that goes on your bicycle that can help with GPS, safe driving, lighting, and more. It is the perfect tool for anyone who needs to keep their attention on the road around them, and works as a personal assistant-type product while in motion.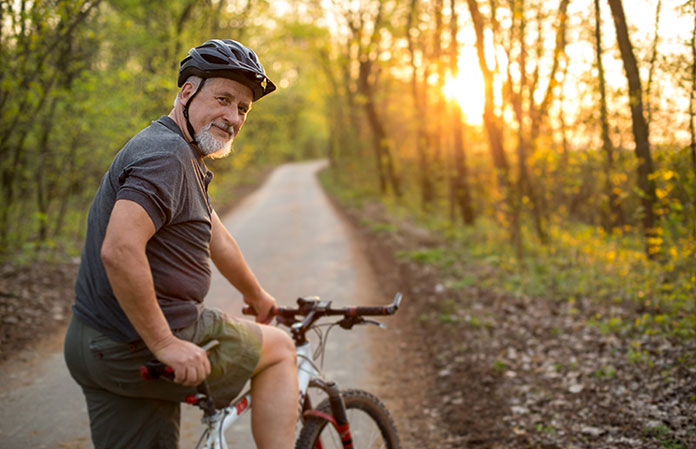 How Does SmartHalo Work?
The SmartHalo goes on the handlebars and works with a halo of light. This halo can indicate where your turn is, light your way, and alert you to messages and phone calls.
Other benefits of the SmartHalo include:
It features a loud alarm that will trigger if repetitive movements are made after you lock it up.
There is a navigation system included that will help guide you though the safest routes possible to avoid injury or car traffic. You can either opt for turn by turn directions that appear in the 'halo' on the handlebars, or it can point you in the general direction of the destination so you can find your own way there.
The light on the front acts as a car headlight would, and turns on automatically when the sun starts to set.
You can set fitness goals to challenge yourself, and have it show up right on the handlebars.
It alerts you when you get a call or text from your phone so you can pull over safely to answer if needed.
Who Makes It?
The Smart Halo is made by a company called Cycle Labs Solutions. Cycle Labs Solutions is a company that makes bicycle products for cyclists to make their rides easier, safer, and faster.
Pricing
SmartHalo is available for purchase directly from the website for only $149.00 plus shipping and handling. For more information about international shipping rates and to place your order, visit their website for details
Should You Buy SmartHalo?
If you are a cyclist who wants a multi tasking solution to distractions on the road, want to help keep your bike secured with an alarm system, or just want to try something new, the SmartHalo may be the right product for you to try.
For more information on this product and how it can benefit your cycling rides, visit their website for details.
Learn More About SmartHalo
You can learn more about the SmartHalo, read about how their product can benefit your biking experience, and place an order for this product at their website at https://www.smarthalo.bike/about-us/.
Though we have not tried or used this product yet, we will update our information with new comments below as time goes on and new details are available.
[vc_btn title="Click Here To See The Top Fitness Program For Men" style="3d" shape="square" color="juicy-pink" size="lg" align="center" i_icon_fontawesome="fa fa-info-circle" link="url:https%3A%2F%2Fsupplementpolice.com%2Ftop-fitness-program-for-men|title:Top%20Fitness%20Program%20For%20Men|target:%20_blank" button_block="true" add_icon="true"]