People make a lot of excuses to avoid the gym. "My gym is too crowded right now." "It's too cold out to go for a run." "I don't feel like putting my contacts in."
If you've ever made any of those excuses, then Peloton Cycle wants to help.
Peloton Cycle is a smart indoor exercise bike. It has a Wi-Fi connection and an HD touchscreen display. Cyclists can stream live spin classes on the HD screen or access those classes on demand.
Peloton was founded in 2013 and has grown a steady following of fans around the world.
Today, in our Peloton Cycle review, I'm going to explain how Peloton works and whether or not it should be your next exercise bike.
History of Peloton Cycle
Peloton Cycle (pronounced "PELL-uh-tawn") was launched in 2013 by John Foley, formerly of Barnes & Noble, Evite, and CitySearch. Within a few months of launch, Peloton Cycle had raised more than $300,000 on Kickstarter, blasting past its goal of $250,000.
In May 2014, Peloton opened its flagship studio in New York City. This studio is where Peloton films all its classes. A team of A/V professionals broadcast footage to Peloton bikes across America while some of New York City's best spin trainers work their magic in front of four HD cameras and a classroom of participants.
Today, Peloton Cycle is shipping Peloton bikes across the United States and has reportedly sold thousands of units (precise sales data is unavailable). In the future, the company hopes to expand to Canada, Europe, and other parts of the world.
The term "Peloton", by the way, refers to "the main pack of riders in a road race." Cyclists will ride in the peloton to save energy before sprinting out of the peloton to get to the finish. The name is meant to evoke a sort of group spirit or energy – just like what you feel when you go to a spin class.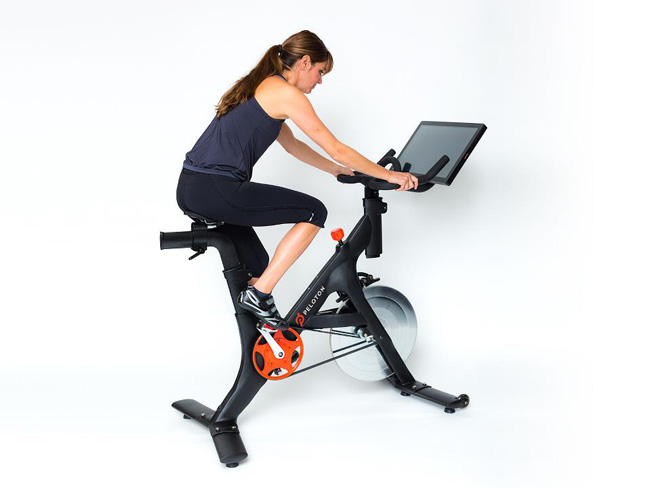 How Does the Peloton Bike Work?
The Peloton bike claims to have three features which make it the best bike ever made:
1) 21.5" 1080p Multi-touch, Sweat-resistant Tablet
2) Live And On-demand Cycling Classes From The Top Instructors In New York City
3) Interactivity With Your Friends And A Leaderboard With Thousands Of Members
Here's How It Works: you hop on the bike whenever you need a workout. On the screen, you can choose to join a live spin class or select a class from a catalog of "on demand" spin classes which were previously filmed.
The spin classes are broadcast live from New York City, where Peloton maintains a flagship studio. That studio is staffed with some of the top spin class trainers in New York City. If you live in New York, you can actually visit the Peloton studio and join spin classes while trying out the bike for yourself.
The Peloton flagship studio is surprisingly high-tech: the studio itself is equipped with three HD Sony PTZ cameras and one robotic Telemetrics HD track camera. Together, these cameras provide sweeping footage of the coaches and of the other individuals in the room.
The goal with this studio is to broadcast the energy in the room to the world. Music is pumping, the trainer is yelling motivational lines at you, and you can see average people struggling away in the dark corners of the room.
It's a spin class delivered to a high-quality screen right in front of your face – and you don't even need to leave your house or dress up to join.
Of course, if you dislike the spin class instructor, then you can simply pick a new one from the menu. You can't do that with an ordinary spin class.
The Screen
The Peloton screen features all of the metrics you expect on an exercise bike, including Distance, Cadence, Output, Resistance, and Calories. You use the screen to select live classes or browse on-demand classes, and the video search interface works in a similar way to YouTube or any video browsing website.
By all reports, the sweat-resistant screen is very high-quality. One reviewer says "you can literally see the sweat coming off the instructor as she yells at you to turn up the resistance."
The Bike
The bike has all the features you would expect on an exercise bike with a high standard of manufacturing. The bike has an adjustable seat. There's a resistance knob within arm's reach (the instructor will yell at you to crank it up at various points in your workout).
The pedals have cleat locks which keep your shoes connected to the bike at all times, which means you won't fall off.
The Classes
Classes are offered in both English and Spanish. Peloton aims to bring on more instructors in various languages as they expand around the world. If you can't join a class from your favorite instructor live, then you can set it to record. It will be saved in the cloud, and you can watch it later.
The instructors are good at what they do and keep classes interesting, telling bikers to crank up the resistance, dip arms to the side, or lift off the bike chair, all of which makes the workouts go by quickly. Most classes last for 45 minutes.
How Much Does Peloton Cycle Cost?
Bringing a Peloton Cycle bike home with you costs $1,995. It's your bike to keep. You will, however, need to pay a $39 per month subscription fee to continue taking spin classes over the HD screen.
That $39 per month subscription fee includes unlimited streaming rides, both live and on-demand. It also includes unlimited accounts for your friends, family, and whoever else wants to take the bike for a spin.
At a price tag of $1,995 plus a $39 per month subscription fee, Peloton is not a low-cost alternative to a gym membership. However, since an exercise bike with an HD screen typically costs $1,500 to $5,000, Peloton isn't too ridiculously expensive.
Peloton Accessories
Peloton Cycle also offers some accessories you can use with your bike, including:
Cycling Shoes ($125): Peloton calls this "the most comfortable indoor cycling shoe." It features special clips which connect to the Peloton bike.
Heart Rate Monitor ($49): This monitor uses an ANT+ chest strap to comfortably track your heart rate throughout the workout.
Sports Mat ($49): 36" x 72" floor mat designed to fit under your Peloton bike and protect your floors from scratches and sweat.
Weights ($25): Available in sets of 1, 2, or 3 pounds, these dumbbells let you add an upper body workout to your ride.
Headphones ($24): Comfortable in-ear headphones which feature a 6' cord.
Cycling Shoe Cleats ($12): You get a pair of cleats with every Peloton bike or shoe purchase. However, if you need an extra pair, you can order one from the website.
Basic Package ($149): A pair of Peloton shoes, a set of two small dumbbells, and headphones.
The Works Package ($229): Includes a pair of Peloton shoes, a set of two small dumbbells, headphones, a heart rate monitor, and a bike mat to be placed under your bike when you ride.
Why do you need a special pair of shoes? Well, you don't. But the Peloton Cycle bike has special clips, and the Peloton shoes have special clip connectors, so some people will find these shoes help with stability during a ride.
Who Should Use Peloton Cycle?
Peloton comes with a premium price tag: $2000 plus $40 per month for classes. It's targeted towards people who are willing to make a large investment in their personal health. That $2000 price tag may seem steep, but you own the bike for life. How many hours will you spend on the bike over the next 10 or 20 years of your life?
Peloton caters towards people who want to exercise and enjoy the energy of spin classes, but don't like taking the time, energy, and effort to actually get to the gym.
If that sounds like you, then Peloton Cycle could be an excellent health investment.